Industrial robot bearings mainly include thin-walled bearings, cross cylindrical roller bearings, harmonic reducer bearings and joint bearings, but mainly cross roller bearings. Structural features of cross roller bearings in welded robot joints: cylindrical rollers are perpendicular to each other in the inner and outer raceway of the bearing, and a single bearing can bear the common load of radial force, bidirectional axial force and overturning moment simultaneously. The bearing has large bearing capacity, good rigidity, high rotation accuracy, easy installation, saving space, reducing weight, significantly reducing friction and providing good rotation accuracy. It is possible to make the mainframe light and miniaturized.
With the rapid development of China's industrialization, industrial robots are becoming more and more popular in industrial applications. The main part of the industrial robot, bearing, is being paid more and more attention.
The main structure is as follows: the whole type, the outer ring separation type and the inner ring separation type. In order to prevent pollution and leakage, sealing rings are installed on both sides of the bearing. Because of its unique lightweight structure and good performance, cross roller bearings can simplify design and save space, and are widely applied in robot joints and rotary units, precision turntables, aerospace and other fields. In order to make serial production of industrial robots cross rolling bearings, the technical standard of cross roller bearings is formulated, which has the leading technical advantage in line with international standards.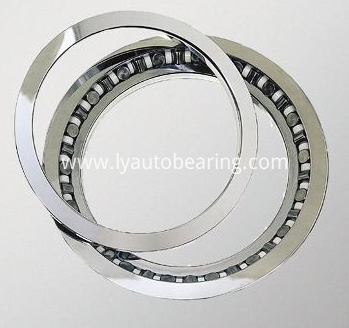 Cross roller bearings are two row cylindrical rollers on 90 degree V raceway, which are vertically arranged across each other through nylon isolation blocks. Therefore, cross roller bearings can withstand multiple loads such as radial load, axial load and torque load.
The bearing has unique structure, good performance, simplified design and save installation space. It has been widely applied in welding robot joint and rotary unit, precision turntable and other fields.